The essence of peaceful marriage was on full display at the Lagos Country Club when former President of the club, Chief Olayinka Ogunmekan, gave scintillating account of how to make marriage work and last. A notable polygamist and author of 'Anatomy of Marriage,' Chief Ogunmekan reeled out tips that have stood the test of time which he said have worked in his own unique marriage. His three wives, arrayed in the front row of the Jubilee Hall venue of the event, made their husband proud with their presence and the sheer camaraderie exhibited among them.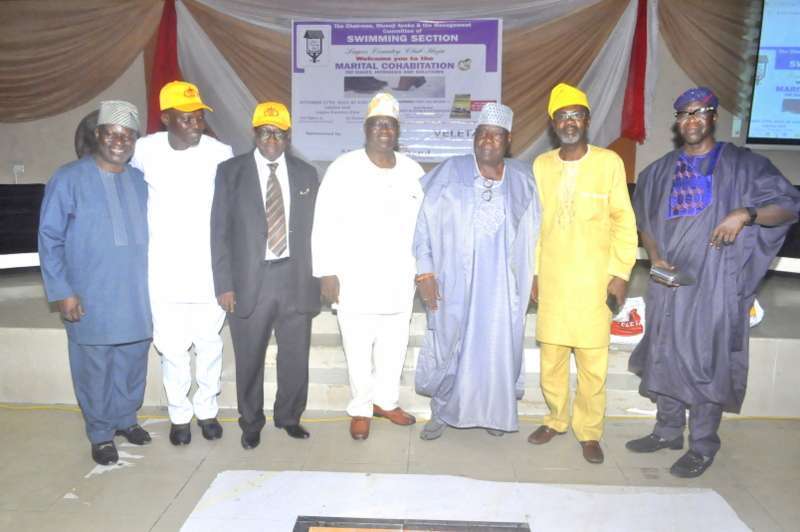 It is believed that the lecture was one of the most important topics in contemporary times. We have a lot of challenges in the country, lots of crime, pervading corruption, bad governance, poor leadership in government and corporate. 
Before the commencement of the lecture, attendees had wondered how a renowned polygamist was qualified to preach peaceful marriage. But at the end of the lecture, there were a couple of affirmations that the presenter, fondly called Tripple A was a genius in marital harmony.
The Speaker has had interactions with over 200 people individually and over 100 couples on the way to have peaceful cohabitation.
The topics he covered include:
How to continue having a happy married life.
The real meaning of Marriage.
How to cope with in-laws
Involvement of children, house helps, drivers etc in marital happiness.
Why are there issues in 10, 20 years old marriages?
How to handle Polygamy if you are already in it.
Chief Ogunmekan also gave out free copies of his book, 'Anatomy of Marriage, How to make marriage work,' to all those in attendance including President of the Club, Arc. Funmi Bamkole and past presidents.
The event was sponsored by Intercontinental Distillers and Bond Industries.