Muiz Adeyemi Banire, SAN, PhD is a legal practitioner and an activist whose foot steps are visible in several spheres of life both in the public and the private sectors. He was a commissioner in Lagos State and a former Chairman of AMCON. He has had several laurels to his cap including appointment to the Bench and the National Judicial Council. As a member of Lagos Country Club, he belongs to Badminton, Squash and Table Tennis, all of which serve as platform for relaxation and de-stressing. He speaks about work life balance and how top executives above 50 years can live long.
What games do you play?
I play Badminton and Table Tennis. Not regular though. Sometimes I come in as early as 7 or 8 in the morning of most weekends
When you are not playing the games, what other ways do you relax?
When I'm not playing and I'm in the club, I hang around people to gist and have fun. I like the club's ram suya, and naturally we throw banters right and left. I enjoy the comradeship of the members. I must confess that it is tough by the nature of my job. You are in court in the morning, you are struggling to prepare your case and you are seeing clients at the same time, so it is always difficult these days to find time in the evenings, except weekends when I find time to play. That's how far I've been able to mend my life.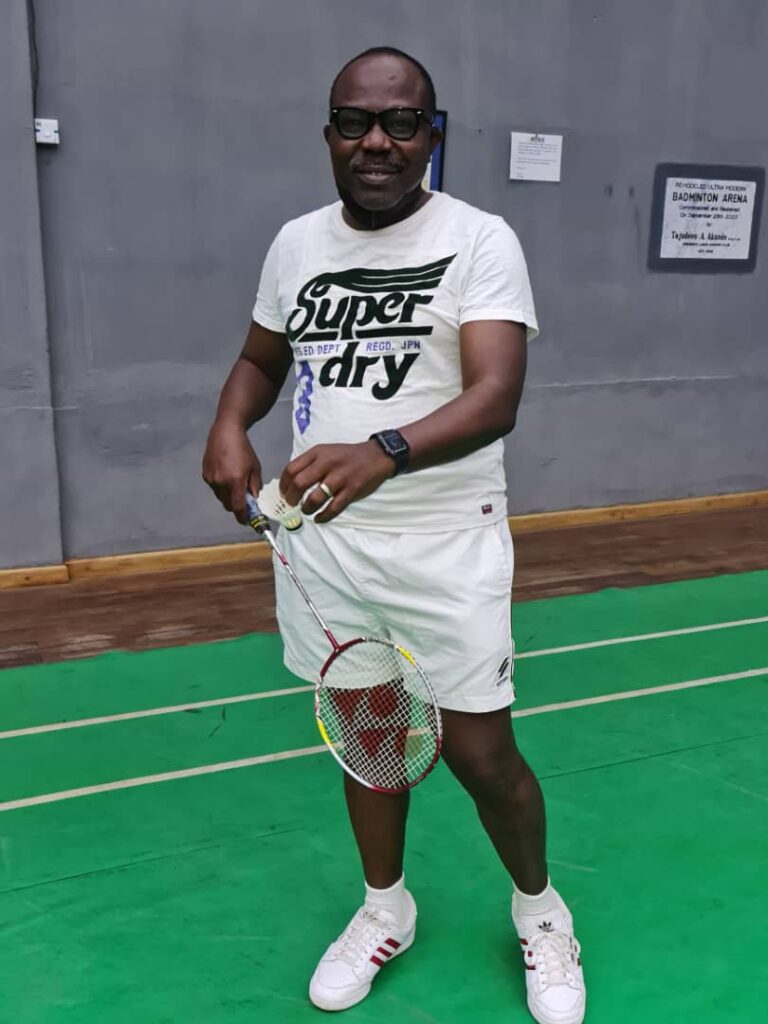 What's your understanding of work life balance?
It simply means you must be able to relax, complement your stress with some form of relaxation in order not to injure yourself. It includes exercises, gisting with people, laughing. Laughter is a major component of life and you can't do the laughing on your own. You have to be in the midst of people who you enjoy their company and who are able to make you laugh. For me, it is very essential in life because you can't continue to work round the clock because it brings a lot of negativity to your life even depression. So, it is essential that you combine the two and find a way round it.
Sometimes in the office, I get up to go and gist with my colleagues and staff, we laugh over issues. This is much easier in a social club like the Lagos Country Club. We need to balance the components of the body. And you know a lot of games go on in the club, so we should try to de-stress.
There are so many ailments such as blood pressure, diabetes etc afflicting top executives. How can they apply work life balance?
The first is for top executives to apply the necessary break as much as possible. There is so much pressure in our society, so much distraction. And if you are not careful, you just drop dead along the way. So for me as a person, I believe an average Nigerian must find a way of ensuring they find time to engage in one form of exercise, in one form of relaxation or the other. In fact, most medical doctors have told us that it is a potent way of not developing some of these ailments. For example, to bring down your BP and cholesterol, they encourage you to do one form of exercise or the other. Again, watch what you eat, you must be able to control what goes into your stomach. And you must know yourself.
I tell people that sleep is very important. It is an antidote to a lot of ailments. Because it is when you sleep that the body regenerates. I take that seriously. If you are an executive, at the worst scenario, you must have a couch in the office with which you relax during the day. If you cannot have a super bed, have a couch. I have a super bed, and I sleep for an average of one or two hours at times in the office and I think that is very important. Once you pass the age of 50, you have to start managing yourself in all ramifications. You don't have to take anything for granted again, because you are getting to an age of no return. If anything goes wrong with you, it will not be as easy to deal with as when you were below 50 years old. These are very important tips that one must adhere to.