Chief Ayodeji Randle, usually called Ayo for short, is the current President of Ikeja Club, a social club situated at the heart of Ikeja, the capital of Lagos, and the state of aquatic splendor. The club is strategically sited along the popular Obafemi Awolowo Way, in front of the famous Computer Village.
Chief Randle is an insurance broker by profession. He is the CEO of Ayo Randle Insurance Consultancy. He also manages Ayo Travels Limited, a travel agency firm based in Ikeja. He hails from the renowned Randle dynasty of Lagos State.
His emergence as the President of Ikeja Club in August 2020 was the emergence of a new era for the Club. The President and his team of executives have been working assiduously to make the club a place to be, making it the toast for many people in Lagos and beyond.
Sir, tell us about Ikeja Club and its activities?
Ikeja Club is a place where we recreate and socialize with one another. It's a family club and we have various sporting facilities that encourage both males and females to exercise and relax. Every Friday, we have one or two things to celebrate; Thank God It's Friday and birthday parties. During the week, we organize seminars and have weekly group meetings. Earlier this year, on August 27, we held our 55th-anniversary celebration which was chaired by Prince Stephen Ademola Dada, a past President of the prestigious Island Club and the former President of Nigeria, Chief Olusegun Obasanjo GCFR was the Father of the Day. The amiable Iyalode of Yoruba Land, Chief Mrs Alaba Lawson was the Mother of the Day and the First Elected Female Deputy Governor in Nigeria and former Deputy Governor of Lagos State, Alhaja Sinatu Ojikutu was the Special Guest of Honour. An accomplished chartered accountant, Chief Tajudeen Akande FCA, a past President of Lagos Country Club was the Chairman of the 55th Anniversary Lecture; while the Doyen of the accounting profession in Nigeria, Bashorun JK Randle delivered the fantastic anniversary lecture. It was indeed a very successful anniversary. For seven consecutive days, we had different wonderful programs and events.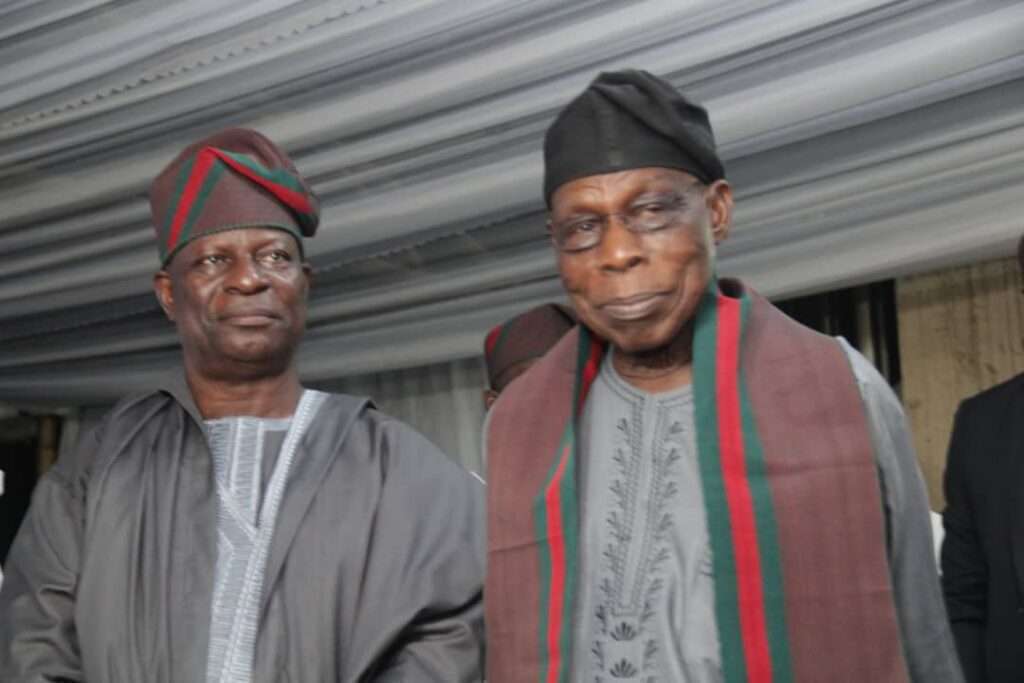 What is Ikeja Club out there to achieve?
Ikeja Club is a place for friends to come and socialize and relax. We relate with one another and we promote business opportunities. That's what clubbing is meant for and that's what we are doing. There's no discrimination. As long as you pass our interview that you are of good character and you have your own acceptable means of livelihood, we admit you as a member. Every August, we induct our new members and the world renowned musical giant, King Sunny Ade, has been yearly entertaining members and guests for more than four decades now.
What is required to be a member of Ikeja Club?
You must have your source of livelihood. You must be of good character. All you need to do is to pick a form, complete and submit the form to the Admin office. Thereafter, you are given a date for interview. If you pass the interview and pay the membership fees, you will be considered fit to join the club. That's the process.
Is Ikeja Club only for those who live in Ikeja?
Our club is open to anyone within Nigeria. As I said, once you are able to pass through the interview process, you are good to go, If you also want your wife to be a member, you will pay 25% of our annual subscription and your wife becomes a financial member of the club. We encourage both males and females to come and relax in the club. It is a place of joy. Our members are happy and they take it as their second home. Every Friday and Wednesday, we are always in a celebration mood.
What makes Ikeja Club unique among the rest?
Ikeja Club is at the central part of the Lagos State capital. We have a large parcel of land which we are still developing and upgrading its infrastructure to ensure that they befit the standard of our name. People are happy to join Ikeja Club and we are better for it. The club is 55 years old. We have gone through lot of experiences that we are continually improving on. Ikeja Club, perhaps within Ikeja, is the most modern club that you can rely on and be happy to join. We are encouraging corporate organizations to register their senior managers to join the club for the opportunities to recreate and ease daily tension and enjoy good health. It's not a place where people womanize or get drunk. It's a place where friends with like minds interact and also promote beneficial business opportunities. So, Ikeja Club is a bubbling and healthy club.
How did you emerge as the club's President?
I was formerly the Vice President of the club for 3 years. During the Covid-19 period, our election season came up. I picked the form for the presidential post which I campaigned vigorously for. You know during the Covid 19, we were more or less doing our activities on the internet. I thank God that at the end of the day, I was voted unopposed. I became the President unopposed. By the grace of God, I'm doing my best to uplift the standard of the club to being one of the most enviable clubs in Lagos State and in Nigeria as a whole.
Tell us what your administration has done to advance the cause of the club?
By the grace of God, I became Ikeja Club President in August 2020. So, I'm more or less a year and half in office. Since I came on board, we have changed the entire outlook of the club. We have renovated most of the premises. We have installed various kinds of equipment, where friends have a place to exercise in 8 different Sections and recreate as necessary . We have our halls modernized. We have two event centres that members now use to socialize. Ikeja Club is bubbling with lots of activities. Since I came on board, we have brought the Alake of Egbaland to Ikeja Club. He came and prayed for our success. We have brought in Baba Obasanjo. We have brought in Bashorun JK Randle who gave us a lecture on 26th August, 2021. Presidents of other known clubs have been with us for one reason or the other. Even outside Lagos State, members of other clubs have been coming to interact with us for social and sporting activities. So, Ikeja Club is a place to be. I will also use this opportunity to appreciate our dear Grand Patron, His Excellency, Governor Babajide Sanwo-olu, for his various supports to the Club and our activities. May God continue to bless his tenure for the good jobs and the development the State is witnessing.
Courtesy: City People