Following the amalgamation of Southern and Northern Protectorates of Nigeria by Governor Lord Lugard, the then Governor of Nigeria, in 1914, the idea of establishing social clubs became apparent. This showed in the 1925 recorded founding date of Ibadan Tennis Club (ITC).
Although records showed that ITC was founded in 1925, oral records proved that the club has been in existence before the founding date recorded. Historically, Ibadan Tennis Club is one of the first indigenous clubs in the South Western Nigeria even before 1925.
Today, ITC that boasts of sports facilities like tennis courts, table tennis hall with adequate equipment, billiards, badminton, scrabble, chess, draught, snookers; has produced international tennis players such as the Kasali Brothers, Segun Balogun, the late Thompson Onibokun to name but a few. The club has a rich history and reputable for sports development of the South West and Nigeria as a whole.
In 1977,the late Alaafin of Oyo, His Royal Majesty Oba Lamidi Olayiwola Adeyemi, crowned Sunny Ade as the King of Juju music with lots of top traditional rulers from Yorubaland in attendance.
According to the sitting President of the club, Prince Oluwole Akinyooye, his leadership is transforming where those Obas sat on the day Oba Adeyemi crowned King Sunny Ade 45 years ago into a monumental spot for archival purposes and a hall of fame which will serves as a record for generations unborn.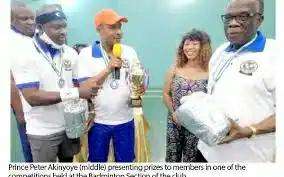 "We're sure when King Sunny Ade comes into this club, he will be happy to see that where he was crowned the king of music many decades ago is renovated and preserved," Akinyooye said.
Against the far-reaching cogitation that ITC is a club of the aged, a former General-Secretary of the club, Mr. Abiodun Ogun, in a media interview,took a dim view of the belief.
Ogun confessed that he had a similar perception about the club when he wanted to join the club many years ago. He shared the same sentiment that ITC was a Club for grandpas until when a friend introduced him to the club and he met with different classes of people and then he believed that it was not a Club for the oldies.
"In fact, we want to erase that wrong perception that Ibadan Tennis Club belongs to the aged. And that is what we are preaching," Ogun revealed.
Speaking on what it takes to be a member of ITC, the former general secretary further disclosed that any aspiring individual would only need to meet certain criteria. He would present two existing members from the club as guarantors and two other respectable people in the society. Such aspiring individuals, Ogun added, would obtain a form to be duly filled and guaranteed by the people mentioned above that the person is of good behavior.
In his own reaction, a former President of the Club, Ajibade Adelana, who joined the club 40 years ago, noted that the ITC still maintains its high regard for moral and traditional values.
Adelana who served as the 32nd president of the club said: "Ibadan Tennis Club is not in competition with any clubs whatsoever, anywhere in the country. If you care to know, ITC is over nine decades old, it is one of the first indigenous clubs in the south western Nigeria. We had existed before Nigeria's independence and we thank God that we are still in reckoning today.
"We appreciate values at ITC; we are our brother's keeper, and that moral value makes the difference. We relate as a family. In the past, we had permanent secretaries, judges, and several top professional members from across south western Nigeria. But today, there is limitation to that wide scope considering the collapse of regional government.
"This season has been one of consolidation, and in typical Ibadan Tennis Club fashion, we have experienced many ups and downs. The bottom line is that whatever we have had to overcome, we have done so together."
Corroborating the president's position on the uniqueness of Ibadan Tennis Club, especially in those golden years, two members of the Board of Trustees (BoT), a retired Professor of Crop Physiology from Obafemi Awolowo University, Ile-Ife, Osun State, Professor Bamidele Adelana and Chief Clement Olatunji Ololade, who have been members for over four decades, confirmed to a national newspaper during an end of year party organized by the club that ITC has become their better half.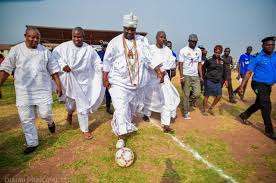 Professor Bamidele Adelana said, "I have been a member for 45 years. Throughout my academic years, this club provided a relaxation spot for me. The membership is very cohesive like a family. They are always with you, no class distinction. That helped me to grow a number of friends over the years."
Also reacting, a member of the association's board of trustees, Chief Clement Olatunji Ololade noted that it has been productive. "It's been very interesting. 44 years ago. Honestly speaking, in those days, Ibadan Tennis Club was a pride of the old Western State.
"When I was the Social Secretary, we wanted to move the whole of Ibadan to this place. We brought in artistes like Sunny Ade or Ebenezer Obey. We are still trying to put things in place.
"The club is my second home. Last year at age 79, I won the sportsman of the club in the billiards tournament. This place keeps me going."
The president of the club Prince Oluwole Akinyooye in a recent interview with The Sun, applauded members of the club who have demonstrated their confidence and trust in the executive under his watch to transform the 97-year-old club into a modern cosmopolitan sports club with top notch facilities.