A newly elected president of the Lagos Polo Club Bode Makanjuola has pledged the sustainability of infrastructural development of the club, and project Lagos Polo Club as the country's biggest and one of the best in the world.
Makanjuola who was elected recently at the Annual General Meeting of the club held at Ikoyi, stated this in his acceptance speech.In the same vein, the Lagos State Deputy Governor, Dr. Obafemi Hamzat, became the newest member of Nigeria's premier polo club.
Dr. Hamzat, who was the Special Guest of Honour at the official opening of the new Polo Club House, was inducted as a member by the immediate past President of the club, Ayo Olasoju.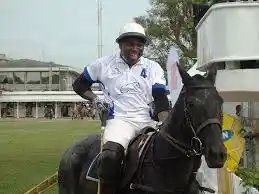 Other members of the new committee include Akindele John Rockson and Adeyemo Alakija who emerged as First and Second Vice President respectively.
Olugbile Holloway sits as the Honourable Secretary, while the foremost Tournament Manager, Seyi Oyinola was saddled with an added responsibility as the Honourable Treasurer for the club.
Rotimi Makanjuola retains his post as the Polo captain just as Yinka Alakija steps in as the Pony Welfare member. The new Lagos polo Ground member is Lolu Agoro, while Tola Akinhanmi is the new Stable & Surrounds member.