Family and friends have completed a golf challenge and raised more than £6,000 for charity in memory of a member's mum Alex, who passed away from cancer in September 2020 at age of 77.
Alex Dillion, his son Callum and friends Iain Kennedy and Andrew Docherty all took part in the Macmillan Longest Day Golf Challenge. The group of golfers set off from Renfrew Golf Club at 6am, before moving onto Mar Hall Golf and Spa Resort.
The final leg of the challenge took them to Erskine Golf Club by playing at Ralston Golf Club, where they finished playing around 11pm.
The day consisted of playing 72 holes over four different golf courses which helped "keep them motivated" says Alex. In the end, the quad of golfers walked over 60,000 steps which is the equivalent of around 27/28 miles in one day.
Alex Dillon, son Calam, Iain Kennedy and Andrew Docherty all tackle the longest golf day in memory of Alex's mum, Susan Dillion.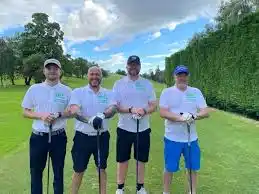 Speaking about the event, Alex admitted that at the start of the day it was emotional as they knew the significance of why they were doing the challenge, however, overall it was a great day out and one where they had a lot of fun.
He praised the dedication and commitment from his group but also the work the golf clubs put in as they helped whenever they could.
"In the end, we raised a total of around £6,000 for Macmillan Cancer Support which was amazing to reach. I can only thank family, friends and to all the people who donated to make us reach this final goal. Knowing what this money can do for people, I am glad that it will help provide some care for those that need it."
Alex mum, Susan worked at her local Morrisons in Cardonald and was well loved by all the employees and customers who shopped there. The branch has pledged to match whatever Alex and his team raised and donate it to MacMilan as well, something that Alex described as a "wonderful gesture" along with Boots further donating £500 to the fundraiser too.
All the golf clubs agreed to waive their tee fees, with some clubs allowing the group to use the facilities for lunch and showers.