The newly elected President of the highly influential club, Association of Friends also known as 'Up ASSO,' Otunba Kole Olatunji, in this interview gives an insight into the formation of the social club, noting that, it remains an association that opens its doors to all.
Can we meet you Sir?
I am the chairman and CEO of IMMAC GROUP, a company that has been in existence for 38 years since 1985. Of course, I was trained as a banker, I worked in the banking industry for about 10 years. IMMAC GROUP is basically into trade finance, realtor and consultancy. Of course that has kept me going and has equally made me reliant so to say.
Give us an insight into the beginning of the club
Well, I may not really be in the picture to give you a very detailed information on how it all started because I wasn't part of the club at the beginning and not a pioneer member back then. But I will say the club started about 45 years ago with friends of like minds. Some of them studied together in the UK, came back and aligned with their friends that were here. Of course they decided to find a meeting point for themselves which according to information was somewhere around Maryland here. And in the course of time, one of them who served as president, and royal father who is late now, His Royal Majesty Fatai Irawo, the late Oba of Odi – Olowo, an Awori (Aworis owned majority of the lands in Lagos), was instrumental to the acquisition of the land where the club is today.
Some other prominent, pioneer members and life chairmen that contributed to the foundation of the club are Alhaji Sule Onabiyi, Asiwaju Festus Adeleke Adesina, the Asiwaju of Ikene Remo in Ogun State, the Vice President Asiwaju Akinlanwi, Akanni Abiola, Otunba Ayominubi, Otunba Akin Oshinyemi. All these names are members of the Board of Trustees.
What makes the social group different from other clubs in the South-West?
"United We Are" is the slogan of the club. We believe in unity and we are closely knitted together because once we are united there is ultimate progress. Also, to a great extent, majority of the members are of like minds so we spend time together organising tasks ahead, looking after one another. If any member of the club has problems, he can invite the club management and there'll be supports from all angles. It's simply a gathering of friends and that's why it is called Association of Friends.
As I said earlier, the club was formed about 45 years ago. We did our 40th anniversary 5 years ago. It was formed by eight young gentlemen who were childhood friends and who wanted to come up with a social group that would concretise their relationship and ensure that those memories were kept long after they must have gone. The objective is for social gathering. It was formed to enhance friendship, to enable members help one another, to unwind after office hours, interact, exchange visions and make their contributions to the society. I think what makes us different is the fact that, though formed by a few friends, it is a social club that gives opportunities to all, I mean every Nigerian. It is a group where any member, irrespective of his religious beliefs or ethnic background, can aspire to any office.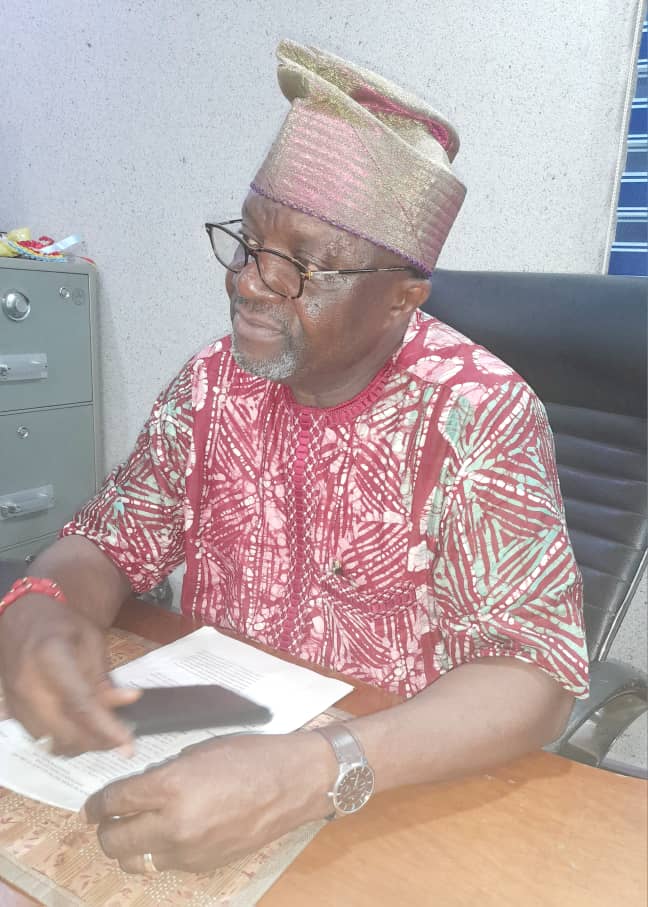 Are you planning to get a new Club House?
Presently, we are not thinking about getting a new club house because where we are at the moment is considered to be a strategic point and the location of the club is easy and simple to get. ASSO has weathered the storms of life and of course, what we are just trying to do is making sure that the facilities we have are well maintained and also embark on membership drive. I believe if the membership enlarges, income will increase. We will bring in high profile people that will add value to the development of the club and this is what will lead to the idea of expansion and relocation to somewhere else. But looking at this critically, we will see that any club by the federal highway along Ikorodu Road must be a good Club, and that's why the club has been in existence for over 4 decades. And if we decide to go elsewhere, we must consider the financial implications and strengthen our corporate and sponsorship deals.
Can you take us through some of the sporting sections that you have here in ASSO?
We have the basement for different sporting activities and for the first time in the club, ASSO chose to appoint a patron. He is the "Odole O'dua" Chief Adebukola Adebutu Kessington, a man with a large heart. He is a philanthropist par excellence and more like a benefactor to our great country Nigeria. To a very large extent we strategically decided to bring him over as the Patron of the club and his involvement has added value positively to the development of the club. In actual fact, he provided over N50 million for the club to have a sporting centre. All the sporting facilities are there. And of course, if you consider the importance of sports in any Institution you will acknowledge the fact that health is wealth.
The sporting centre is a part of what you stand to benefit as a member of ASSO. The members don't just come here to have fun but they also benefit from the sporting facilities. And of course if they decide to go elsewhere and register for sporting activities and exercises they know how much would be paid. But here in ASSO all the facilities are at the members' disposal. The sport centre is part of what they stand to benefit from the club as a member.
We encourage members coming to the club not to just eat and drink but to stay healthy. There are different brands and types of exercising equipment; we have massagers too and a separate section for games like Snookers, Ludos, Scrabbles, Chess etc.
The club believes that if you are wealthy and not healthy, it is like a living dead. We also listen to music and make ourselves feel good.
People have this belief that the club is for the Yoruba ethnic group alone. How open is ASSO to people from other ethnic groups in Nigeria?
Well..yes, lots of our members are Yoruba but that is not to say all the members of the club are Yoruba. Good enough, we have members from Igbo land, South South, Edo State etc. We are trying to make our membership drive incorporate other ethnic groups.
How do you combine running the affairs of ASSO with that of your profession?
I am in my late 60's, I trained as a banker and I was in the banking industry for 10 years. I haven't left the banking Industry, I have been on my own for about 38 years, so to a very great extent I am almost getting close to my retirement stage. I am a father of 4 with 10 grand children. So therefore, I am downplaying my active involvement in business activities for the virtue of my age and pedigree. At the same time I believe very strongly that godliness with contentment is great gain. I am not working to amass wealth.
I work in my company as a realtor and a consultant and that has given me time to always be available in the club. I am here on Tuesdays, Thursdays and Fridays, and in most cases I come everyday to ensure all is in good condition, comfortable and make preparations for the arrival of members of the club.
All this is to make sure we are fulfilling the constitutional provisions of the club and ensuring the club is well managed. We use the club's facilities to manage the club so if you move around you will see that we are working. Before now, the revenue base of the club was very low but in the first quarter of this current administration we have generated close to N20 million. Our target is about N60 million.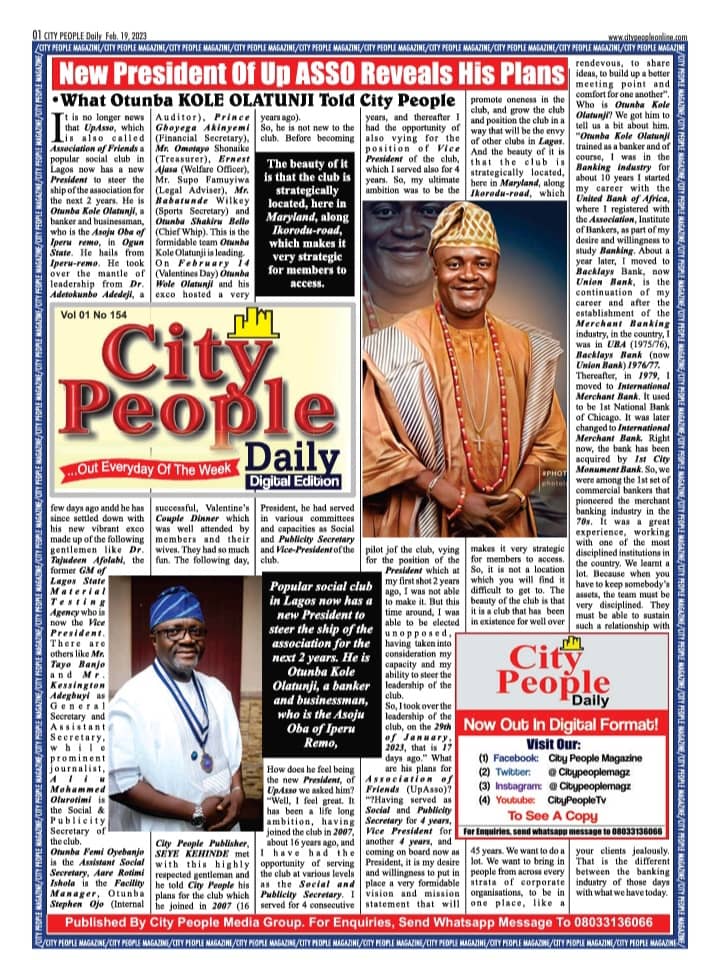 What have been your challenges and achievements since your inauguration?
We are just about 144 days in office. We have been working for 144 days and we have been able to generate N20 million. We hold two major meetings every year, the bi-annual general meeting which takes place at the end of July and the annual general meeting which also takes place on the last Sunday of January. Therefore, the tenure of every management ends in January. So we actually took over office at the right time which is end of January. November is when we hold our presidential night of induction because it's when we bring in new members after going through series of interviews, in fulfilling their general obligations and potentials. But this year for example is going to be our 45th anniversary, the presidential night and induction of new members. The induction usually takes place January 29, 2023 and that's also when the election usually takes place too.
The challenges and achievements I had; I came onboard with members of the club that had been in the system even though I had the opportunity of serving the club as the Social and Publicity executive and also serving the club as the Vice President for four consecutive years. And for about two to three years ago I wanted to serve as the president but wasn't able to. But this time I tried by letting the members know that I have the capacity to actually become the president. Majority of the people in the management are those who worked with the previous administrations, therefore, to a great extent they have been tested and we are working as a body. The bulk of this assignment lies with the leadership, you must come with a vision and mission and must complement your mission vision statements. Immediately we came we identified the need to embark on the aggressive improvement of the club's facilities, we identified the areas we needed to improve. Our facilities which have also increased our revenue base and also the main auditorium are one of our major revenue base. Both members and non-members come here to use the auditorium for weddings, birthdays and other events, and the club earns revenue from that.
How would you like to be remembered as the president of ASSO?
One should measure life by loss and not by gain. Measuring life is to decrease yourself and increase others. We pass through this world so we can do any kindness we can do because we may never have the opportunity of doing it again. That's just the beauty of life.
I see myself as someone who should add value to people's life, give everyone that comes around me the opportunity to identify and appreciate me by adding value to their well-being, I see myself as the president of this club and trying to do what inspires others especially for the younger ones. And to encourage those behind me to do possibly much better than what I have done. I can only do this by leading by example. What I do is looking at others, improving on what they have done and trying to do better. And also encouraging those behind me to do much better so there will be life after death.
The club has a white dress code, what informed the club's white dress code?
White is all about purity, it's about being immaculate, white outfit is a reflection of a relationship between the members, and of course if you look at the members and the slogan of the club it's like 2 friends hugging each other, embracing each other and that's why we are united. We believe strongly that the house that is divided against itself will not stand the test of time. We attach so much in unity and we are guarding our unity jealously. Just like Jesus Christ and the church and also Muhammed and the mosque. These are 2 indivisible situations we cannot take away from the club.